It's November already and 2019 is coming to a close (too fast, ain't it?). Winter is here and we couldn't be more excited!
Time to get those coats, mufflers and caps out and brace yourself for two months of enthralling cinema! With the year ending, the perfect time to relax and chill is here. Yes, we totally mean the holiday season! With the kids at home and parents on leave from work, this time of the year is idyllic for engaging in some good family time (or solo zen time if you are single, of course). And what is a better way to spend time with your loved ones, than watching some fun, kick ass movies. 
These flicks will definitely help you in ending your year on a good and entertaining note! Top 10 movies that you should be looking out for in the next two months are:
1. Doctor Sleep
"Heeere's Johnny!" – Jack Torrance (The shining)
Genre: Horror
Release date: 8th November 2019
Remember, Danny Torrance from The Shining (1980)? Yes, the boy with psychic abilities to detect spirits and see the past and the future. He is back with a new movie called Doctor Sleep although he is not a little boy anymore (Hey, grown-up Danny). Doctor Sleep is based on a 2013 novel of the same name by Stephen King. This movie is sort of a sequel of the 1980's version wherein Danny grows up to find some peace in his current life until he finds a teenager called Abra, who shares his extrasensory gift too. Adventure and horror ensues. 
2. Bala
Genre: Comedy
Release date: 7th November 2019
One of the most awaited films of November is Bala. Starring our very own Dream girl actor Ayushman khurrana, the film talks about the story of Bala, a man from Kanpur who is suffering the perils of premature balding. The movie is a satirical take on the societal pressure that comes along with balding. Ayushman has already delivered fabulous performances before with Bareilly ki barfi (2017), Andhadhhun (2018), Badhaai ho (2018) and the very recent Dream Girl (2019). Let's hope this one sets the bar even higher  ¯\_(ツ)_/¯
3. Jumanji: The next level
"Get on My Back!" – Dr. Smolder Bravestone (Jumanji: Welcome to the Jungle)
Genre: Adventure/Action
Release Date: 13th December 2019
The Jumanji franchise is no newbie to the list of the most awaited flicks. Started in 1981 with a book by the name of Jumanji, the first theatrical film with the same name was released in 1995. Two more parts by the name of Zathura: A space adventure (2005) and Jumanji: Welcome to the jungle (2017) were added to the list which makes Jumanji: The next level the 4th part. 
4. Frozen 2
"Let it go! Let it go! Can't hold it back anymore!" – Elsa (Frozen)
Genre: Animation/Musical
Release date: 22nd November 2019
Any fans of animation here? Good, you are at the right place! The 2013 musical-animation film Frozen has a sequel releasing this November. Starring Idina Menzel and Kristen Bell, the movie's plot revolves around Elsa and her travel into a land far beyond her homeland in order to discover the source of Elsa's magical powers. Hoping that Elsa succeeds in saving the day this time too!
5. Ford v Ferrari
Genre: Drama
Release date: 15th November 2019
If Christian Bale and Matt Damon working together in a movie, isn't a good enough reason to go watch the movie then we don't know what is! Ford v Ferrari, as the name suggests is a movie about the competition between the engineers, drivers and the designers of the car brands, Ford and Ferrari. We won't reveal much (because where's the fun in that), but you should totally go to watch this thrilling masterpiece in the nearest (or even a far away) cinema (because we promise it will be worth it!).
6. Panipat
Genre: Drama/Action
Release date: 6th December 2019
A very anticipated period drama starring Arjun kapoor, Sanjay Dutt, Kriti Sanon and Zeenat Amaan – Panipat is based on the third battle of Panipat. Set in the 18th century, the film is directed by Ashutosh Gowariker who has made gems like Jodhaa Akbar (2008), Swades (2004) and Lagaan (2001) before. Larger than life sets and beautiful costumes – Panipat is definitely a December must see!
7.  Star wars:The Rise of Skywalker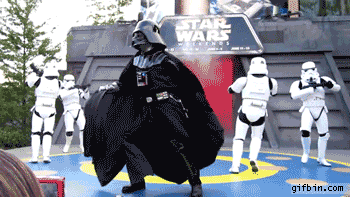 "I find your lack of faith disturbing" – Darth Vader (Star Wars: IV episode- A new hope)
Genre: Sci-fi/Adventure
Release date: 20th December 2019
Star Wars is back with a blast! The Rise of Skywalker is hitting the cinemas this December. It is the third installment of the sequel trilogy of Star Wars and is also the final episode of the Skywalker saga. The movie will feature a clash between the Resistance and the First Order, and the Jedi and the Sith. With the saga coming to an end, this is one Star Wars flick you shouldn't miss out on.
8. Charlie's Angels
"Flip… your… goddamn… hair" – Alex (Charlie's Angels)
Genre: Action/Comedy
Release date: 15th November 2019
Yes, we are totally doing the happy hops too! After all, who doesn't like the 3 most badass women in the movie history ever. After Charlie's Angels (2000) and Charlie's Angels: Full Throttle (2003), this is the third film in the Charlie's Angels series. Starring Kristen Stewart, Naomi Scott and Ella Balinska, the movie has rebooted with the all powerful trio fighting a young systems engineer who blows the whistle on dangerous technology. The bad-ass angels coming back after 16 years is definitely worth the wait (and watch!).
9. Spies in Disguise
Genre: Animation/Action
Release Date: 25th December 2019
Will Smith and our very own spider man aka Tom Holland play the two main leads in this highly anticipated action animation. When the suave and smooth scientist, Lance Sterling (Will Smith) is turned into a pigeon, his socially awkward scientist counterpart, Walter Beckett (Tom Holland) has to coordinate with him so that they can both work together as a team to save the day. The rhyming title, two actors with the perfect comic timing and the Christmas holiday release…what's not to like?
10. Mardaani 2
"Dekh Be Under 19 Team Ke 12th Man" – Shivani Roy (Mardaani)
Genre: Action/Thriller
Release date: 13th December 2019
Rani Mukerji is back after a long time with the sequel of her action packed flick Mardaani (2013). This film like the last one is a woman centric enterprise with Rani Mukerji reprising the role of the cop Shivani Roy. The plot revolves around Roy hunting for a remorseless serial killer who rapes young women and kills them. Do catch our good lady cop catching the serial killer in the cinemas!
For all you movie buffs out there, we hope our small top 10 movie list helps (after all, how many good movies are too many good movies?). While there are always movies that you can stream online on Netflix and Amazon prime, there is no denying the fact that the movie hall has its own charm (with the popcorn and the no-light). So please stop Netflix-ing and chilling for a while and get out of your house to catch these fantastic movie in the cinemas itself. Happy watching!