"Life is full of surprises!" – ya that same quote our ancestors have been telling us from time immemorial and by repeatedly listening to which, we've literally been bored to death.
But there's a crucial element to this adage, which is usually not paid a lot of attention to – that these surprises are not always glamourous. Sometimes, they can be nasty as well. Those nasty ones, for which if you aren't prepared, it can not only cost you your own happiness but can also jeopardise the lives of your loved ones.
Now, I apologise if I've just turned your beautiful day into a sad state of affairs by asking you to remember about the nasty things. But that wasn't my intention. What I want is for you to safeguard your family's future through a Term Insurance, if someday you aren't there with them.
Think about this.
People consider a lot of different avenues for saving money – PPF, Mutual Funds, Shares, Gold, Real Estate, etc, but the limitation to these options is that they're self-funded. Meaning, you've to keep investing in them to have the corpus growing, for you to use it later.
Now, these aren't bad avenues for investments but the goal I'm talking about here, is not something that the above investment avenues can help you with, if you're not there.
So, a Term Plan is what you'll need to ensure that your family doesn't suffer any consequences, if the main earning member of the family isn't anymore. Now, the basic idea that people have of term plans is that your family will receive a certain amount of money, if you're not there. But that's just the tip of the iceberg. There's more to term insurance plans than what generally people know.
What is a Term Insurance Plan?
Term insurance plan is a financial cover you provide to your family, in case anything happens to you. If you're the sole breadwinner of your family, and there's no other income source then it's highly likely that even for bits and pieces, your entire family is dependent on you. In that case, if something happens to you, the financial future of your family will be jeopardised.
Hence, to secure your family's future, insurance companies have this offering called as term insurance plan, so that upon your death, your family receives a pre-defined amount and not be dependent on anyone for their future.
Now, it's very easy to proclaim, "what will happen to me," but you can never be certain about it. There's always this element of "what if" and by getting the best term insurance plan, you'll be helping your family during this exact what if situation.
You'll be surprised to know that inspite of term insurance being the cheapest form of insurance available, only around 1 in 5 Indians own a term insurance, according to a study by Max Life Insurance. Moreover, the same study also said that around 2 in 5 people feel their savings would last less than a year in case of mishaps and only 12% realized the need for a critical illness plan.
Advantages of Term Insurance Plans
Apart from the obvious benefits of safeguarding your family's future in your absence, as an insurance policy, term insurance plans have a lot of other benefits as well.
Until now I think I've done enough to convince you of the importance of getting a term insurance plan. While that's true, what's actually the cherry on top of this cake is that the premiums are extremely low – nominal. It's actually the least among all the insurance plans. And the reason behind that is the non-attachment of any investment element with this. Typically, a term insurance policy of 1 crore will beg you to pay around 7.5K per annum.
Now, there's a generic notion that "term insurance plan is only helpful when I'm gone so what's the use of it to me". While they don't take into account the benefits their families will stand to gain when they're gone, term insurance plans do have something to help you even when you're alive.
Getting a term insurance plan means tax benefits on the premium paid, up to a deduction of Rs 1,50,000 annually, under Section 80C of the Income Tax Act, 1981. And even the maturity amount that your family receives is completely tax-free.
The flexibility of term insurance plans is a major selling proposition for them. The best term insurance policies are convertible. Which means in case you deem fit, you can convert your term life insurance policy into an endowment policy, for the same assured sum but commensurate increase in premium.
Also regarding the medical examination, it's not mandatory that you've to go through them every time, even if your provider calls for it. You can put in a claim that you recently underwent the examination and as such shouldn't need it soon. And if your provider agrees, it can waive off the medical.
A second aspect of term insurance is that it's much easier to opt out of term life insurance policies than cash value policies (those which have an investment component with them). You just need to stop paying the premium before your tenure ends and the policy will lapse without providing you any cover. You won't get any money back either. 
In comparison to other plans, term insurance plans are extremely easy to understand and are very straightforward, as there are only a handful of decisions you need to make and nothing is concealed here. Following are the things you need to decide before getting the best term insurance plan for yourself.
The premium you can pay and the cover amount you think shall be sufficient for your family

The tenure for paying the premium – monthly, quarterly, biannually or annually

Until what age you want to be covered. A point to be noted here is that today some of the best term insurance plans also give you coverage till 100 years. But availing that much coverage makes no sense. Ideally you should take the coverage till your retirement, as usually, by that time, you'll have more earning members in your family – your kids, and there's no need for you to pay high premiums for extended coverage.
Among all the various insurance schemes, term insurance has the lowest claim rejection percentage. The reason being, when buying a term insurance, it's required that the buyers disclose every information about their health and lifestyle. If not, you risk being not approved for a term insurance policy. Which is why both LIC Term Insurance and Max Life Insurance have over 98% of claim settlement ratio.
Term insurance plans usually come with rider benefits. These rider benefits are nothing but add-on services that a buyer can avail along with the their term insurance plan. An example of this is adding a Waiver of Premium (WoP) rider to your plan which will allow you to stop paying your premiums in case you suffer from critical illness or dismemberment. The benefit, however, is that the policy continues and doesn't lapse even after you stop paying the premium.
Other popular riders include accident benefit, critical illness and specific disease such as cancer or cardiac cover. 
What's The Best Term Insurance Plan For Me?
When it comes to term insurance, there's no one size fits all plan. Just like most of the other things, even term insurance plans should be personalised according to an individual's needs and the buyer must take into consideration in what way you want your plan to benefit you. But then there are some major factors that you can consider before purchasing a term insurance plan.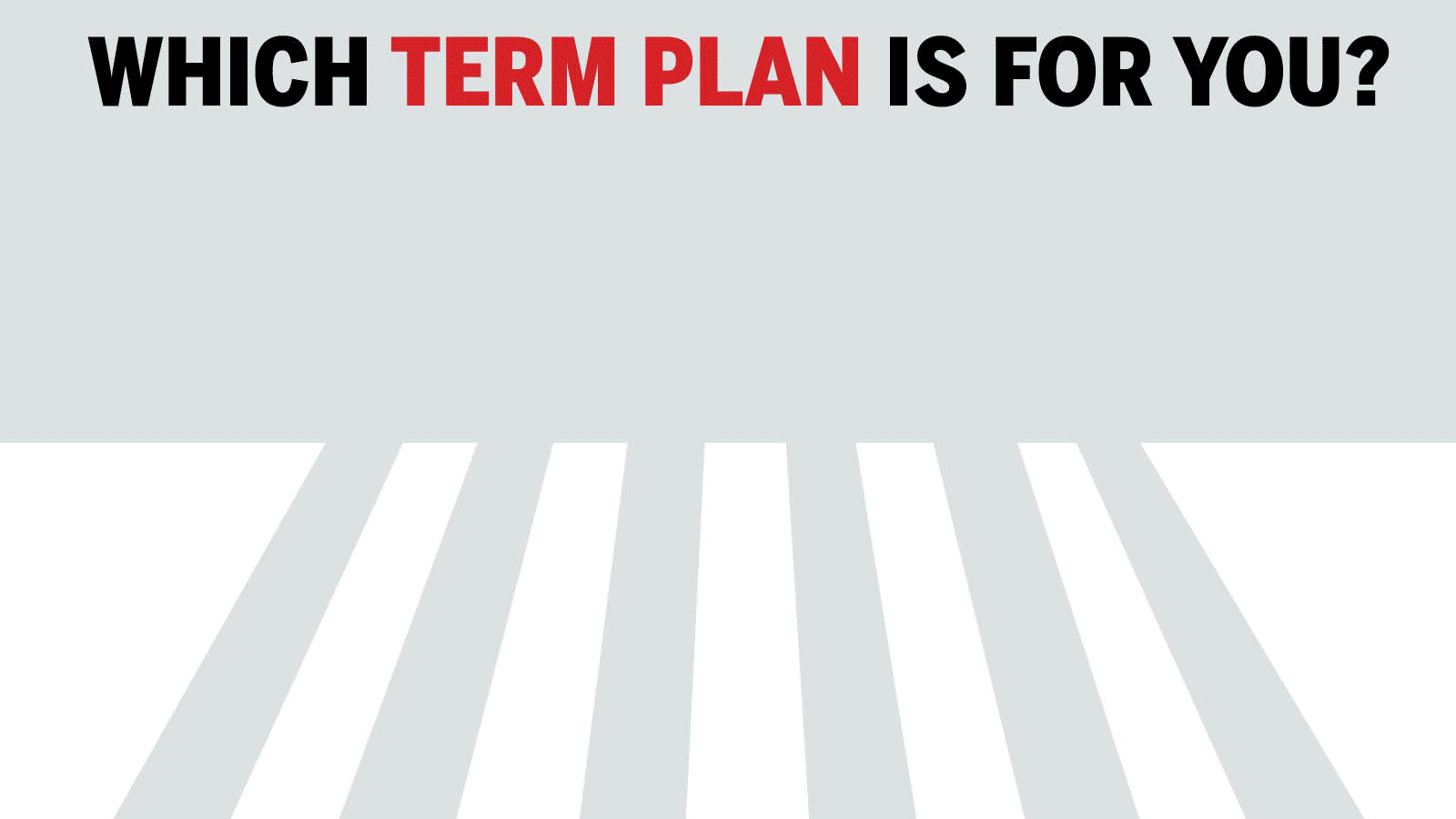 Having this big sum of money, say in crores, at once, might not be a very healthy thing and might propel the receiver to take some financially disastrous decisions for themselves. In the light of this, some insurance providers have started giving flexible options in terms of pay-outs. This can include a combination of lumpsum and upon the death of the earner and a monthly fixed amount after that or even increasing monthly payments. Make sure your term insurance plan offers the flexibility to choose the pay-out option.
There's every chance that you'll be flooded with a sea of options the time you decide to purchase a term insurance plan. Hence, it's extremely important to keep your sanity intact at this moment and not to blindly pick the option with the lowest premium. Do your research, match the benefits with your requirements and only then pick up the right plan for your family – one that'll be sufficient to see out their rest of the expenses when you won't be there. You need to remember that cheap doesn't mean best.
Solvency Ratio is the indicator of a company's ability to pay cover amounts to the insured. As per IRDAI rules, insurance providers are mandated to have a solvency ratio of 1.5 and above. In case of a natural hazard, there'll be a lot of claims and at these times, you'd want that your insurer be able to provide you with the cover money. Hence, pick the insurer which has a higher solvency ratio.
Higher Claim Settlement Ratio
This one is a no-brainer. The companies which have the best claim settlement ratio are the ones you need to purchase your term insurance plans from. And you just cannot take this one parameter lightly. To save your family from the hassles that might incur, in case their claim is rejected after you're not there with them, go for the insurance providers which have the highest claim settlement ratio.
The provision of riders is there to maximize the benefits of term insurance plans. But then you need to be sure about the riders you need. Adding all the available rider options will unnecessarily increase the cost of your premiums and you might not end up even using them. So, first decide which rider options do you think will be beneficial for you and then by paying a small extra premium you can get them added on.
How Much Term Life Insurance Cover do I Need?
After considering the factors for the best insurance plan, another common question insurance buyers are often posed with is, "how much term life insurance cover do I need", and just like above, even this does not have a common answer, for obvious reasons of different needs and different situations.
Few of the common parameters you can consider for reaching a suitable cover amount figure are,
Your current age will be the major deciding factor in what cover amount you should seek. Because increasing age has both pros and cons in your insurance purchase decision. Ideally, you should want your insurance plan to cover you till your retirement age, i.e., 60 years. Hence, increasing age means lesser cover tenure, higher premium and lesser cover amount. Let's take an example,
Ravi is 30 years old and his boss Victor is 40 years old. They both decide to get a term plan for themselves and want their plans to cover them till their retirement age. Now, the premiums, will be lesser for Ravi as compared to Victor because even though the insurer needs to cover Ravi for a longer duration, the chances of something happening to Ravi is lesser than that for Victor, given their ages. A good rule of thumb is to opt for a cover 15-20 times of your current income, if your age is between 25-45 years and 10 times if you're in between 45-55 years.
A good majority of the population depends on loans and EMIs to fulfil their aspirations – home loan, car loan, wedding loan, education loan, etc. And if you too fall in the same breath, then you need to account for those loans as well. Because if something happens to you then the liability of paying those loans will fall on the shoulders of your dependents. And you obviously don't want the lenders chasing your family for the EMIs.
Hence, ideally, you should include the amount repayable of outstanding loans in the life cover you'll be availing. Apart from that, you need to also consider your child's education and their marriage expenses into this to reach the final figure.
Your cover amount should be based on your family's needs and not just income. It doesn't matter even if you're not the sole breadwinner of the family. Your cover amount should be such that it shall be able to take care of your family's expenses and all the necessary bills.
Yes, you should have sufficient income to pay the premiums but discounting your family's expenses just so that the premium fits into your salary, might not be the best thing to do. Otherwise, you need to work upon reducing and streamlining your family's expenses. Don't forget to factor in inflation as well.
Few Questions to Ask Yourself Before Getting a Term Insurance
Do you have dependent family members?

The annual income you think would be sufficient to take care of your family's basic needs.

Are you the sole breadwinner for your family?

Steady, if any, income earned by other family members?

Your savings / investments?

Unpaid loan amounts?

Planned future expenses such as children education, marriage, etc?
Today there're no dearth of good term insurance providers, some of which are, HDFC Term Insurance, Max Life Term Insurance, LIC Term Insurance Plans, ICICI Term Insurance, SBI Term Insurance, AEGON Term Insurance, etc. And once you've accounted for all the possible factors, use our Term Insurance Calculator to reach at the right figure for yourself.